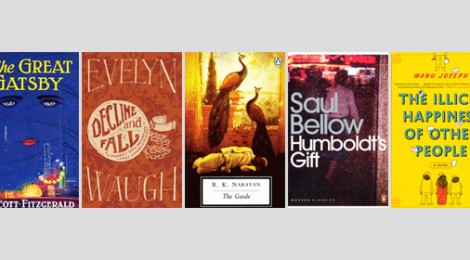 The Great Gatsby (1925) by F. Scott Fitzgerald
"I want to write something new — something extraordinary and beautiful and simple & intricately patterned", wrote F. Scott Fitzgerald to his editor in 1922. The Great Gatsby eventually went on to become a lot more than that. One of the finest novels ever written, The Great Gatsby draws the reader in with its flowing style and poetic prose. It is the story of Jay Gatsby, a mysterious man who throws lavish parties, and his passionate longing for Daisy Buchanan, a woman he loved before she had married the wealthy Tom Buchanan. The book has inspired several theatre productions, music compositions, radio shows, other books and six movies, the most recent of which was released in May 2013. Wouldn't that be a good excuse to pick up the book again?
Decline & Fall (1928) by Evelyn Waugh
We Indians, enamored to a fault with P. G. Wodehouse tend to neglect other writers in the rich tradition of English humour and farce. Evelyn Waugh's first novel Decline and Fall is a delightful comedy which will guarantee to give you as many laugh out loud moments as would Wodehouse's finest. Set in the quintessentially English worlds of boarding schools, country houses, Oxford the novel boasts of outrageous characters whose faults include bigotry, cruelty, violence, madness and even murder. In the politically correct times we live in, this novel's unsparing and almost malicious humour comes as quite a jolt to the reader.

 

The Guide (1958) by R. K. Narayan
The Guide is R. K. Narayan's masterpiece, the fullest realization of his art. It is the story of Raju the chief protagonist and his journey through life, from being a

 

professional guide to Malgudi's environs, to falling in love with a married dancer, becoming her stage manager, getting involved in forgery and theft, spending time in jail and finally retiring to the banks of a river as a self-proclaimed holy man. The novel can be read both as tragedy and comedy, the characters are considered with sympathy and affection by Narayan, but he also seems to be gently mocking them and their plans. It is this combination of compassion and ironical detachment with which the author treats his characters,

 

that makes this novel so great.
Humboldt's Gift (1975) by Saul Bellow


Humboldt's Gift is a novel that explores a friendship between two writers Humboldt Fleisher, an old man and Charlie Citrine, a much younger novelist. It is also partly autobiographical, as it was inspired by Saul Bellow's friendship with the hugely talented but emotionally unstable poet Delmore Schwartz. It is a novel about the true meaning of art. Humboldt believes that elevated literary and artistic tastes are the only means to save a degenerate and intellectually sterile American society. Citrine writes novels that are commercially successful. The novel explores themes like friendship, love, creativity and death. It is a beautifully crafted work, written by a novelist at the height of his literary powers.



The Illicit Happiness of Other People (2012) by Manu Joseph
The Illicit Happiness of Other People is a novel set in 1980's Madras as it was then known. It is structured as an investigation into the suicide of young Unni Chacko, a seemingly carefree 17 year old budding cartoonist, by his father Ousep. It is more dark satire

 

than a detective story, with its biting social observations of a conservative and introverted society, which casually accepts misogyny, and is obsessed

 

with entrance exams, professional careers and the American dream. Paced like a thriller, yet providing satisfactions for a reflective and critical reader, Manu Joseph's dry wit and sardonic humour shine through in this novel.
[Every month, The Bangalore Review recommends a reading list, also mentioning in brief why each book must be read. This month's list has been compiled by the Editorial team.]
3RPVA6M3H3ZC