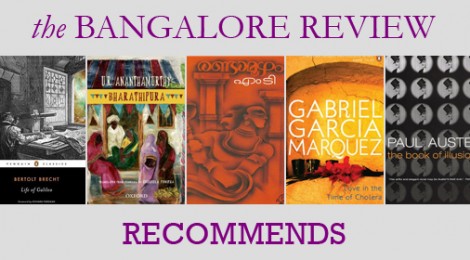 1. Life of Galileo (1945) by Bertolt Brecht

Andrea – "Unhappy is the land that breeds no hero."
Galileo –"No, Andrea. Unhappy is the land that needs a hero."

These are a few unforgettable lines from 'The Life of Galileo, one of the greatest plays of the twentieth century. This was written by the great German playwright Bertolt Brecht, who contributed immensely to the theory of 'Epic Theatre'. The play is based on the life and tribulations of the great inventor and scientist Galileo. It examines how Galileo was able to support Copernicus' heliocentric theory and also the impact of the virulent opposition to his theories from the church. Brecht paints a very humane and believable picture of Galileo. This is brought out in the exchanges between Galileo and his student Andrea. Andrea idolizes Galileo and is upset when he recants his teachings under pressure from the church. Andrea believes later that this is a smart ploy by Galileo to outsmart the authorities. However Galileo reminds Andrea that he is no such hero and that he recanted out of cowardice. Brecht's dialogues are scintillating and this play is not only a tribute to science and reason, but a wonderful portrait of human frailty.
2. Bharathipura (1973) by U. R. Ananthamurthy (Translated by Susheela Punitha, Oxford University Press)
"In order to love the past, one must also hate the past" says Ananthamurthy in his introduction to the English translation of his Kannada novel.There is a lot of love of the past in India ,but to truly come to terms with our history one must also discern what to hate.A novel about a educated and modern Indian, newly returned from the West, who decides to break the oppressive caste hierarchies in his village by making the untouchables enter a temple and thus gain their liberation may seem a bit dated.Untouchability after all has been outlawed in this country ever since independence.The novel though brilliantly captures the psychology and inner struggles of the protagonist as he attempts to resolve his existential dilemma ,that of a modern thinking Indian in a deeply traditional society, by trying to confront the caste system.It is this existential aspect which makes the work vital, as the search for the essence of ones being, of understanding the present, also means that one must return to the past.
3. Randamoozham (1984) by M. T. Vasudevan Nair
M. T. Vasudevan Nair's Randamoozham (Second Turn) is certainly one of his best works till date. In current times, when retelling of epics and myths are in vogue, it is worth going back to this revisionist approach to the Mahabharata where Bhima is portrayed as the protagonist. Bhima's various dilemmas in each situation as he saves each day and his frustration at always being the one who gets the second turn form a compelling narrative that will have one wondering whether this could have been the truer version of Mahabharata. M. T. captures the psychology of the usually underplayed character of Bhima like no other writer could. A translation titled, Second Turn, is available for readers in English.
4. Love in the Time of Cholera (1985) by Gabriel Garcia Marquez
"The scent of bitter almonds always reminded him of the fate of unrequited love." Thus begins this novel exploring the fate of unrequited love. Love in the Time of Cholera tells the story of Florentino Ariza's wait of over five decades to win back the one true love of his life, Fermina Daza. In those five decades, their lives take different trajectories, leading them into entirely different lifestyles. When Fermina's husband, Dr. Juvenal Urbino eventually dies, Florentino prepares himself to propose to Fermina again. What follows is not the conventional or the expected, as Marquez surprises the reader with a story of timeless love which can only be read to be believed. This is a story of eternal love, the kind that surpasses youth and stays aflame well into the protagonists' old age. The book was originally written in Spanish. Translations are available in a number of languages around the world. 
5. The Book of Illusions (2002) by Paul Auster
This is a novel about a professor David Zimmer who has recently lost his wife and children in a plane crash. Distraught by grief he accidently stumbles upon the films of a silent movie actor named Hector Mann, who disappeared under mysterious circumstances decades ago. Zimmer, out of a sheer sense of escapism, starts a research project of this missing movie star. After the publication of his book on the missing actor, he receives a call informing him that Hector is alive in Mexico. This leads to a meeting between them and an unusual tale begins to unfold. Zimmer wants to escape the burden of everyday existence and Hector Mann's life too seems to mirror this desire. Both the men seem to be trying to come to terms with loss and grief, while at the same time trying to retain their aesthetic sensibilities in a world that is very indifferent to them. This book can be interpreted as a tribute to silent films and also Nathaniel Hawthorne (read it to know why!).Auster alludes to the theme of 'art as salvation', where both Zimmer and Mann strive for perfection in art (Movie making in the case of Hector and translating Chateaubriand's Mémoires d'outre-tombe (Memories from beyond the Grave) in the case of Zimmer).Auster's exquisite prose weaves an extraordinary plot that keeps the reader engrossed.
[Every month, The Bangalore Review recommends a reading list, also mentioning in brief why each book must be read. This month's list has been compiled by the Editorial team.]