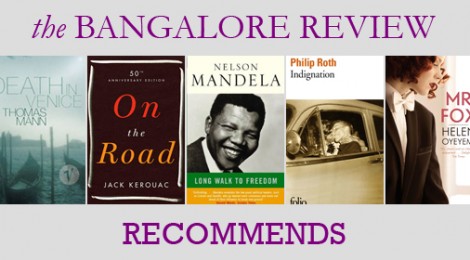 1. Death in Venice (1912) by Thomas Mann
This is the story of a famous writer Gustav von Aschenbach and his almost insane passion for a  fourteen year old youth Tadzio. Gustav is holidaying in Venice, partly to overcome a lull in his creativity (he is in his fifties). He meets the boy in the ship and is immediately smitten by the youth's beauty. Gustav begins to compare Tadzio to a Greek god and falls madly in love with him. Even though he desires Tadzio sexually, he is unable to even to touch him. He stalks the boy and is overjoyed when the boy occasionally returns his gaze. Gustav is now possessed by a lustful passion (Thomas Mann often alludes to Nietzsche's Dionysious, who was perceived to be the god of passion as opposed to Apollo, the god of reason) for Tadzio. He is worried about aging and is fanatically grooming himself to appear youthful. There is a serious cholera epidemic in Venice and Gustav is oblivious to it, consumed as he is by his lust for Tadzio. Homosexual desire for a young boy, was a very bold theme for a writer to take on at that time (guess it still is!) and Mann deserves our respect for it. However it is not a merely a story of lust and forbidden desire. It is a great rumination on western philosophy and culture, the eternal battle between the old and the new, between reason and passion. A great work which writers of our times would find very difficult to emulate.
2. On the Road (1957) by Jack Kerouac
There are different kinds of pleasures that one gets out of reading. One is of deep reflection and contemplation. Another is the feeling of being swept along a torrent of narrated events and lives, that for the duration of our immersion in the book our own reality lies in suspension. On the Road provides a pleasure of the second kind. Written by Jack Kerouac, one of the beat generation of American writers and poets, it chronicles the exhilarating rides, back and forth across the United States, of Sal Paradise and his coterie of crazy friends. One gets a sense of the freedom, both of the openness and possibilities of the road that lay ahead and also of the personal liberties and hedonistic pleasures that were enjoyed by them. Kerouac wanted to develop his own writing style , which he called spontaneous prose. On the Road is the best exponent of that style.
3. Long Walk to Freedom : The Autobiography of Nelson Mandela (1994)
One of the charms of reading biographies or autobiographies is that it is both literature and a lesson in history. Reading Nelson Mandela's autobiography, one gets the additional benefit of imbibing deep moral  lessons. It is a remarkable achievement and takes great moral fortitude to come out after being kept in prison for 27 years by the enemy and then talk about peace and reconciliation. Often these are abstract terms but by reading about lived experience, of the actual thought processes and emotions that went behind taking this principled stance one is affected in a deeper way and learns much more than just being familiar with conceptual generalities. There are also other interesting anecdotes that will keep you entertained like the fact that it was to escape an arranged marriage that led to Mandela's first act of rebellion, to escape to Johannesburg and which also set him up on his path to greatness.
4. Indignation (2008) by Philip Roth
A brilliant coming of age novel by arguably the greatest living American writer Philip Roth. The novel traces the travails of young college student Marcus Messner. Marcus hails from a low income family in New Jersey (his father works as a Kosher butcher) and he is trying to carve an identity for himself by rebelling against the orthodox traditions of his family. He seeks a transfer to another college in Ohio just to escape the clutches of his domineering father. Life in Ohio is not easy at all for young Marcus. He falls in love with Olivia, a girl with suicidal tendencies. His mother opposes the relationship. He refuses to attend the college chapel and gets into an argument with the Dean who admonishes him. Reluctant to recant or repent Marcus instead chooses to quote extensively from  Bertrand Russell's essay "Why I Am Not a Christian" and demolishes the Dean's arguments (this is one of the best parts of the novel). After repeated skirmishes with the college authorities, he is expelled. The Korean war is raging and he is drafted to fight….and there is a twist at the end of the novel.
5. Mr. Fox (2011) by Helen Oyeyemi
Helen Oyeyemi's Mr. Fox is a beautiful piece of work that meanders, mesmerizes and touches the reader as it goes through its various narratives. One of the best works of magical realism to come out in recent times, Mr. Fox tells us the story of St. John Fox, a celebrated novelist, who has to face the challenge of his favorite character, Mary Foxe. Her challenge? That he would stop murdering the heroines of his stories, like a "serial killer" and that he may explore themes of love instead. What follows is a game between the writer and his character, through chains of narratives, where each tries to get the better of the other. This highly imaginative tale, the fourth novel of young Helen Oyeyemi shows promise of a writer to look out for.
[Every month, The Bangalore Review recommends a reading list, also mentioning in brief why each book must be read. This month's list has been compiled by the Editorial team.]