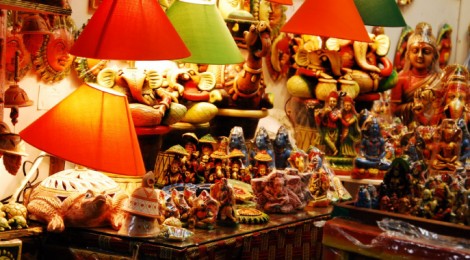 Trade-Off
"You have to stop being such a doormat," I tell Samaya Di[1], wiping the display table we used for a quick afternoon snack and throwing away the empty chai glasses in the dustbin below.
Sashaying toward the mirror hung on the sidewall, I remove the hip scarf covering my pleated, ankle length skirt and don a russet khadi jacket over my tank top. Quickly, I release my ponytail into its natural waves and wrap a bathik bandana across my head. As I behold my transformation from the dance rehearsal clothes into a fusion Rajasthani outfit flaunting Di's clothing exhibit theme, I look for my cousin in the mirror reflection ahead.
Samaya Di is silent. Eyebrows clenched, head bowed over a remote, her right hand is waving to the air conditioning vent against the adjoining wall. Making sure, perhaps, that the air remains cool. Cool enough to attract clients indoors and keep them checking out her clothes. It's early March, the beginning of summers and Mumbai is boiling already like there's no tomorrow.
The chiffon stole thrown across Di's shoulder billows to the sudden wave of cooler air around. Di's eyebrows ease back into their natural arch.
"Today, women can have it all," I tell Di, "career, family life, bank balance, true love. You just have to believe it. Discard the legacy Mittal mommas passed on to us. Legacy of dead marriages, sexual restraint, compromise, denial."
Di is nodding her head, lips tightly pursed. I'm not sure if she agrees with me or disagrees. I wait for her to open her mouth and say something. Instead, she keeps rearranging disparate clothing ensembles back onto the display table we used for a snack break. Slowly, attentively, as if holding a long awaited new born. As if those months of saving money, those hours of convincing in-laws, those endless errands in Mumbai's smoldering heat were all worth renting this exhibition hall for a day. Worth today – Samaya Mittal's first public display cum sale of clothing designs.
"No, really." I glide back toward the display table and drop my right palm on it to wrench her attention.
Di watches my hand conceal and crumple a bandhni shirt over a lingering silence. She then looks up and gives me an ice-cold stare. As if she's had enough of my sermon. And my juvenile idealism.
I ignore the look. Standing opposite her, chin held high (first lesson learnt in my dance class), I am determined to not play the diplomat. Not today at least, our last meeting one-on-one perhaps before I migrate to Boston for grad school and a long-awaited life with Aziz – high school sweetheart, love of my life. Leaving behind family, friends, Mumbai, dance…. Sure the internship offer for that Bollywood choreographer was tempting but I, Neha Mittal, dream big. And I want it all. Love, lust, lucre. Life of financial and emotional freedom with my Muslim boyfriend abroad. Like my brother, Vijay. And my oldest cousin, Rashi.  To Di, I may be a twenty-one year old baby but of all the Mittal women, I know best the price for choosing freedom. Don't I?
My cellphone vibrates. Flashes across the phone screen, Aziz's name with a picture of two interlocked palms. I ignore the call knowing it's a reminder toward the Nestlé project we're trying to finish up for college tests. Project I need a break from – I've slogged all week on it already. Besides, it's time I confronted my cousin. We may not get a chance to approach something personal as soon as Di's clients start pouring in again. Aziz's call can wait.
My smartphone vibrates again. Di watches the image of interlocked hands flash across my phone screen. Her gaze wanders slowly toward her assistant, Joe, who is receiving a couple into the exhibition hall. Hiding in the left corner of Di's lips, I notice a suppressed smile.
"After all, the man cheated on you!" I snap while arranging the kurti shirts and leheria skirts on the adjoining rack of clothes. Divorce is what I wish to suggest again, but I better shut up. Guess I've said too much already. Still, I love Samaya Di to death and would rather risk a no-nonsense, heart-to-heart with her before flying abroad.
"Besides, that hypochondriac mother of his. She has rarely seen a daughter-in-law in you. Only a free maid," I blurt out, despite myself.
Awaiting a response, I watch Di. Lips pursed tight again, she is rearranging the mojari shoes clients left scattered on the shoe rack. I hate it when she pretends like it's no big a deal – her miserable marriage. Like she's completely uninterested in a personal conversation, especially on that topic. The feigned composure, the denial – a legacy Mittal women love perpetuating.
Di is now folding the bathik shirts on the side table. "Neha darling. Wait till you turn forty and have children." She glances over Joe receiving another group of college kids. Careful not be heard by clients browsing clothes. "Love turns into something bigger than self-indulgence. You know?" She gives me another cold stare.
And I'm peeved. Peeved at Di's judgmental tone. One of those subtle sarcasms, hinting constantly about how I'm eloping abroad with my Muslim boyfriend for a yuppie fantasy instead of facing my bigoted father and passion for dance. Hinting at how her love is real love, and mine, a cheap Bollywood romance.
"But that man and his mother – they don't deserve you."
My gaze continues to follow Di who is watching Joe help the college kids scout the right kurti shirt sizes. After a long silence, she sighs out loud. "I know," she says, as if exhaling all life from within her. "But Rohit and Ria, they deserve better. An emotional anchor. A stable, peaceful home to grow up with. First Singapore, then the move to Bangalore, then Muscat and now – Mumbai. Playing kids to a workaholic businessman hasn't been easy for them." Di's vigilant eyes drown into a distant void.  "Stable home that I promised them the day they were born, something I never had growing up." Her low, shaky voice fades into a whisper.
I realize it's time for me to stop. We've been through the divorce issue before. Like, a few hundred times. I know Di's unwavering commitment toward her kids. And she knows my unwavering stance toward Amod, that asshole husband of hers. Still, this might be our last few minutes of alone time. Once I leave, who would show Di an honest mirror to her marriage? The steep road to integrity? Certainly not Rashi Di, haunted by the wound of a fatherless childhood. Nor will Vijay, gay brother of mine, comparing every conflict to his struggles with homophobia, and the classic, "We all have our own battles to fight, Neha."
"And you? What's your emotional anchor?"
"This." Di raises her chin, drinking in the rented exhibition hall from left to right, an explosion of warm colors – yellow, orange, pink, red – flaunting unapologetically her first exhibition of fusion clothing and accessories.
Pulling a black, striped lehenga skirt up to expose its massive flair, bordered by intricate mirror work, she says: "Traditionally the number of pleats in a skirt was a measure of one's prosperity. This one – roughly a hundred pleats – and about six months of manual labor."
Watching the skirt open its opulent body, I remember the costume I wore for my college's annual day dance performance last year. A similar pleated skirt gifted by Di for which I received rave reviews, in addition to my performance of course. I mean, I've always marveled at my cousin's skill to coordinate colors, fabrics, textures and styles, still so many hours spent on one skirt? Wow.
I follow Di, slack jawed.
"And this."  Di moves toward the shoe rack. She runs her fingers past the golden embroidery over the mojari shoes and bends them inside out, brushing the inner sole with her fingers. In olden times, these were made for North Indian royalty. Embroidery out of real silver and gold threads with precious stones to match." She explains the traditional uses of mojaris, their current popularity as dressy shoes, moves on to the bandhni sarongs, the gota-bordered chiffon sarees.
And I listen to her talk non-stop, dissect carefully each clothing item and accessory on display, expose the history and labor behind each, as if to divert the personal conversation and lighten up our last few moments alone before I take off for a new life abroad.
I listen as Di catalogues the ways she enjoys importing tribal wear into urban lifestyles, her love for North Indian fashion, the power of a bandhni scarf to create radically different looks, from a conservative office wear to an elegant hipster accessory just from the way it is draped, as if all this design talk could diffuse the tension of the moment and acquit Amod in my eyes.
"Jodhpurs. These are my favorite." Di continues to peruse her creations as we move on to another kiosk. She pulls out a pair of black pants, baggy on the thighs and tapering toward the ankles. "Elegant, assertive, versatile. Has so much more personality and freedom for bodily movement than the good ol' saree. If I were living alone, I'd never slip out of these." She says, her fingers stroking the delicately embroidered peacock motifs bordering the pants with the slow, conscious caress of a doting lover.
"Jodhpurs stole the show at the Turf Club Fashion Gala last month too." A bass voice emanates from behind. We turn around to see a middle-aged man, clad in beige linen pants and white linen shirt, the neutral cotton hues accentuating the cinnamon highlights of his dark hair.
Wide-eyed, Di clears her throat to summon her drowning words. "Welcome, Sir."
The man gives a slight nod. "Manish Mehra, the fashion mogul closed his Fall collection wearing Jodhpurs on the ramp too. Glitterati is still debating if that was a fashion hit or a fashion gaffe." He lifts his chin and waves his right palm – amused and nonchalant.
My cousin responds with a surprising confidence. "Given the Club's special exhibit on the evolution of equestrian style, Jodhpurs feel an apt choice though."
"Agreed." The man looks at Di, having scanned her clothes in a glance. "Cyrus Wadia." He extends his hand to greet her.
I almost stumble as I twirl backward to pretend rearranging the silk scarves strewn around. Wadia smirks lightly, in amusement, I think. As Di talks to him, I discreetly check out the dude. Cyrus Wadia. Never knew one of the most venerated names in Indian fashion would look this young. And this good.
"I loved your latest office wear collection inspired by Buddhist cave paintings." Di is telling the dude. "Monochromatic mural paintings on earthy shades of satins and silks. Perfect for a flamboyant yet urban professional look."
Playing with the scarves at a distance, I oversee Di compliment the fashion guru's professional legacy, his latest contribution to semi-formal styles, his innovative weaving of function with form. And I listen, stunned by her knowledge of Indian fashion history. Intrigued by this transformation she displays, despite herself. Chin high, back straightened, her voice sounds assured. The Samaya Mittal I glimpse here is so different from the doormat of a cousin I know from her miserable marriage.
"Our upcoming Fall collection is inspired by the Silk Route." Wadia stretches out his business card to Di. "Let's see more of your desert inspired work?"
Di narrows her eyes and bites her lip as she stares down at the card. "I…er. It would be an honor, Sir," she tells Wadia. The tremble in her voice could pass for an understandable nervousness. Except that there's more to it, I'm convinced. I know Di so well; her inner thoughts feel audible enough. Amod and mamma-in-law. Who'd convince them? To let Di off the leash. After all, design as a housewifely hobby is one thing, design as a serious professional pursuit, quite another. Working in Mumbai's leading design studio? Mingling with male colleagues, models, Bollywood actors – an open call to corruption.
My phone vibrates. A text message pops up on the screen. "Nestlé project due next week! Me here. Where's you?" Aziz again.
Yikes. I forgot. Was supposed to see Aziz at four p.m. today, not over our usual evening meets. The Nestlé project, of course. Our last academic commitment to finishing college here. But I'm bored. I so need a break from it.
I look at my watch and feel a sudden fatigue overtake my body. Thirty minutes to four and I have little desire to leave this exhibit hall. Not before I finish my chat with Samaya Di. Our very last, who knows. Besides, it's boiling out there on Mumbai streets, this time of the day.
I turn around and check out my cousin. Di and Wadia are deep in conversation.
"A twenty hour workweek max with ten hours from home, ideally." Di says.
"Sure, let's talk possibilities next. What I'd like in my winter collection is a strong presence of Haveli architecture from Shekhawati region, the frame within frame structure for a light yet layered clothing." Wadia tells Di, drinking in her designs hanging from the office wear kiosk opposite them. "I assume the Mittals know where they come from?" He questions with the dispassionate look of a future boss. A beaming Di nods shyly, flattered perhaps at Wadia's awareness of the desert cultures influencing her clothes.
My phone vibrates again. A second text message. Craigslist has awesome deals on used furniture. $70 only for the desk and futon combo they'd liked on Ikea. All in good condition! As I read Aziz's message, a film of pre-emigration chores runs through my head. And I remember. We have yet to finalize our campus housing deal in Boston, research providers for phone and internet service there, sign up for school identification card and bank account…. A huge wave rises within and subsides slowly, digging a strange void in my womb.
I look at my watch. Time to leave.
Reluctantly, I pick my bags and wait at a distance, away from Wadia's gaze to not distract them. I want to hug Di goodbye but wouldn't want to interrupt this conversation.
I don't want to leave this conversation too. So I watch.
Di and Wadia have moved toward the cash desk behind which are stacked a few fat reference books. Eyebrows furrowed in concentration, unaware of the world around, Di is flipping the pages of a reference book. She is talking about Style Check magazine's issue on Rajasthani women, the chunky silver jewelry worn by different desert tribes and the Moghul legacy of jadau jewelry on the region. Wadia is listening attentively, nodding away, as if he agrees with every word. What camaraderie the two display.
The cell phone in my bag vibrates again. The buzz feels like a screech. Annoying. I ignore my phone. I'm irritated at Aziz. Geez. Can he not wait?
Entranced, I stand there still. Unable to take my eyes off Di. As my gaze follows my cousin, the strange void in my womb grows bigger. And the film in my head – louder.
Two weeks back, at our college hall, over dance rehearsals.… Undulating my torso, as if riding the waves of the ocean, I was explaining to my troupe the fluid movements of a belly roll. Switching on the music again, locking eyes with the girls, smiling, we twirled to a Remo Fernandes swooning in the background. What energy in the room. What camaraderie between us.
I jerk my head, blink and look at Di. The fashion duo at a distance are now discussing the nomadic history of the Thar desert, the textile legacy of the Silk Route.
Their voices are fading into silence though.
As I stare at the duo, as I feel the silence grow wider in my head, this time I do not resist. Do not resist the void enlarging in my womb, the queasy feeling tickling my torso. Do not resist the gooseflesh slowly overtaking my body. This time, I revel in my older cousin's infectious nervous confidence. Nervous confidence that comes from a sudden adrenalin rush, from an instant camaraderie of a shared passion.
And I see it. In Di's nervous smile – a confidence so different from the one I feel when discussing internship possibilities at multinationals with Aziz, a life full of social and financial freedom abroad.
And it's here, all around me, this odd, overwhelming feeling. Like a vague omen of a distant tsunami.  In the carefree sway of Di's arms, in the glint of her eyes, in the authority of her voice.
And suddenly, out of nowhere, I see it. I recognize.
It's the same nervous confidence, the shared camaraderie that fills me up each time I move on stage – to the rhythm of percussion and the applause of a few thousand hands seated down there below.
---
[1] Di = Colloquial for older sister in Hindi.