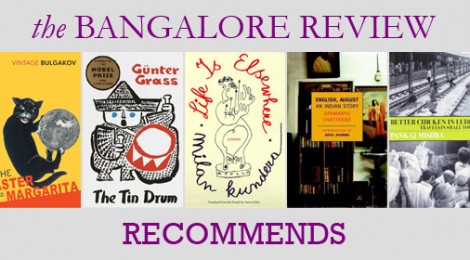 TBR Recommends – July 2013
1. The Master and Margarita (1967) by Mikhail Bulgakov
"Manuscripts dont burn". This is a legendary line from Bulgakov's masterpiece. The Master and Margarita is a satire based on a fictitious visit by Satan and his entourage to Moscow. It is set in the 1930s when Russia was a Communist nation. It has two plots running along each other in alternate chapters. One is a beautiful love story between a young woman named Margarita and a talented older writer who is only referred to as the 'Master'. The other is the story of Pontius Pilate and Jesus. It is a novel about the human quest for freedom, beauty and love in a tyrannical system that seeks to destroy these ideas. This book is also a scathing critique of the Communist regime with its mindless bureaucrats and 'establishment' intellectuals who merely toe the line of the state. Bulgakov wrote this novel in conditions of absolute secrecy to escape the ire of the state, which would have imprisoned him for daring to berate the system. It was a labour of love, taking him twelve years to finish. He died just weeks after completing it. In the humble opinion of this reviewer, Bulgakov was one of the three greatest Russian writers of the 20th century, the others being Alexander Solzhenitsyn and Leonid Andreyev.
2. The Tin Drum (1959) by Gunter Grass
An extraordinary novel written by Germany's greatest living writer Gunter Grass, The Tin Drum was the first novel of the Danzig Trilogy (the others being 'Cat and Mouse' and 'Dog Years'). The plot revolves around a dwarf named Oscar Matzerath, who decides never to grow up physically, because he comprehends the stupidity of humans and the meaninglessness of the world around him. The novel is set in Nazi Germany and it begins with Oscar reminiscing about his experiences from the confines of a mental asylum. The book is rich in metaphors and allegories, which amply demonstrate Grass's literary caliber. Oscar has the ability to shatter glass by merely shouting and his most prized possession is a tin drum, which he beats relentlessly whenever he witnesses injustice. The drum beats get louder and louder as the novel unravels. It is Grass's way of provoking the conscience of humanity. The Tin Drum remains one of the harshest critiques of the Nazi era in all literature.
3. Life is Elsewhere (1969) by Milan Kundera
Life is Elsewhere is about the tribulations of a poet named Jaromil. It is a coming of age novel set in Communist-ruled Czechoslovakia. Jaromil is a prodigious talent who is trying to be an authentic artist, but he is restrained by an overbearing mother and a totalitarian political system. Jaromil is an idealist, but he soon begins to compromise his values and even denounces his lover to ingratiate himself with the state. It is a novel about the inner lives of poets who reside in a communist country. How can poetry survive in a country that deprives its citizens the right to free speech? Kundera offers deep insights into art, philosophy, culture and aesthetics and he does so in a sublime manner, without ever sounding preachy or dogmatic. This is a beautiful novel, crafted with a prose that only be termed as sublime and lyrical.
4. English, August (1988) by Upamanyu Chatterjee
Published in 1988, English August is a cult classic. It is an account of a young Indian civil servant's first year on the job, spent in the backwaters of Madna. At its core, this novel is a wicked satire on Indian Bureaucracy. Agastya Sen, the protagonist is what one would call a young Indian yuppie, whose thoughts are dominated by sex, literature and music. He is unable to adjust to the life of boredom of an IAS officer in a small town and spends his time in a pot-induced haze. What comes across beautifully is the hopelessness, absurdities and frustrations of a misfit, of a city-bred English speaking youth in a mofussil town and of a rebellious spirit in the servile babudom of government service.
5. Butter Chicken in Ludhiana (1995) by Pankaj Mishra
This book is an underrated classic of Indian non-fiction. In 1993, a young Pankaj Mishra sets out on a journey across the small towns of India. This is an India which is just beginning to reap the benefits of new economic reforms and embrace a nascent consumer culture. From Kottayam to Murshidabad, Udaipur to Benares as Mishra crisscrosses the country on trains and buses, he engages with the new Indian middle class. What he sees and chronicles is often funny, sometimes mocking but always insightful. This book is still relevant because it questions the often troubled relationship India has with modernity.
[Every month, The Bangalore Review recommends a reading list, also mentioning in brief why each book must be read. This month's list has been compiled by the Editorial team.]