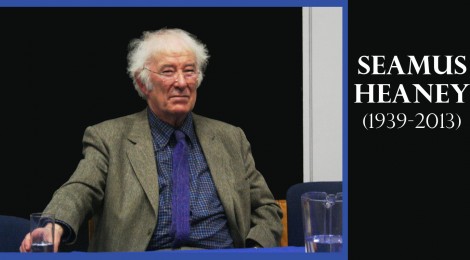 … in a warm July you lay
Christened and smiling …
While I, a guest in your green court,
At a West window sat and window …
— S. H., 'A Peacock's Feather'
1. MARYLAND, USA | 1989
When I first saw you —
I was a mere face
in a word-rapt audience —
while you, on stage,
constructed lyrics,
letting the tip of your tongue
and silver-white hair
tremble in the perfect tenor
of its substance,
its fluid frequency
that even a tested equation
found hard to balance.
Eccentricity has its gifts,
its genius containing
its own sanity and calm.
The Haw Lantern opened
its jaws — the title
page pronouncing your space
and inviting my deep want
of your ink — the sepia-
scribbled "as I pass (p.39)"
celebrating with
the peacock's rain-dance,
my own country's pride.
2. DUBLIN, IRELAND | 1997
Today on Sandymount Strand
I looked for you, as you did
for your father's ashplant
many years ago.
I don't know why I went
on this search
knowing full well
you weren't there,
but elsewhere gracing a shoot
"plunging through glar
and Glitty Sheughs".
But the script for me
remains unfinished …
the dotted line of words,
of memory, of epiphany,
is something I know
tide won't wash away.
The secret lies
in accepting word's own
intent, one that scripts
one's own fate, with its
desire, fatality,
unpredictability,
and its elocuted magic.
[This poem also appears in FRACTALS: New & Selected Poems | Translations 1979-2012 by Sudeep Sen]