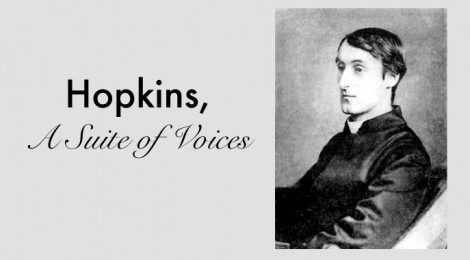 Hopkins, A Suite of Voices
The golden light of inner dawn capturing visions ascending
the heart spins as the world, the universe, moves through
space into time, crafting the story that begins with light
as the counterpoint of visible silences unheard in darkness
Landscapes driven by the energy of the material world,
the instress of forms speaking as the divine replaces
self as center however mysterious and abundant;
the half light / dark vacancy of soul, by which the heart longs
and the intellect searches, frees the spirit to explore dimensions
from grace to the grace of contrition and converging probabilities,
until the incomprehensible certainty of knowing God is purposeful
and complete. Seeing is believing but touch is the truth, and
all things  therefore are charged with love . . . if we know how to touch them
Concentric rings of light rising and bringing forth the inscape
of realization and peace; the bird of spirit circling until
awareness yields the prism at the center of consciousness—
a point of reference and the purposeful sovereignty of God revealed;
All things counter, original, spare, strange call the heart and
overwhelm divisions of the reason in the brute beauty and valour
of the unity of indivisible perfection seen in rivers uprighting in the sun
and the depth of space understood as absence
                        *          *          *
Every age has its false alarms:
perpetually born, Hopkins is my voice
& in the dialogue between unknowing
& form, light shines awoken.  Before me
a core, a pulsing encore; — wishing to
absolve itself to inscape voiced fourfold
into the nineteenth century sun & wind.
Absolve me, & you will find
vocation, a pursuit that glitters into
being rather oddly; — as the dawn
the sunset all God's handiwork
is, yes, quaint to the fibre, the dappled timbres
of oddness.  So, perhaps, thought Coventry
Patmore, & I believe in thought, but
I believe more in an antique chaunt
and in an unknown tongue . . .
                       *          *          *
Mothers lose sons to war and prodigality.
A good son, the first to fill her womb
allured by an antique tongue, a Jesuit
Apologia pro vita sua
finds dwelling in God's sacred heart
in strange Cathedrals, imitatio Christi.
In Dublin a young mother cries at the confessional: Father, I believe I'm not good enough.
Would you want your young boy to believe that about himself? No! she exclaims.
Why not then? Because he is a good boy. I wept and didn't tell her,
mother dear,
would that you had said that.
Three-fold forsaken
hived off by superiors
I cry for England
I need your touch
Frail health, nature's beauty—
no light, dark tunnel, bitter cup
parents' wrath, no comfort in reading
Whitman. Hear my prayer.
God's silent hand bridges the abyss:
Deus, tu conversus vivificabis nos—
the inscape of real presence.
In Deutschland Nietzsche finds:
One is punished most for one's virtues.
                        *          *          *
It is the dappled things that catch his eye
and hold his heart with splendor—
trees lifting majestic branches toward indigo skies,
wheat fields bowing down in gold to autumn's final harvest
The imago dei in all living forms creates the beauty
that fills his heart with poignancy; so much
contrast and separation between eternal grandeur
and the fallen world of Goldengrove unleaving
In restless tones, the wind knows his struggles—
illusions crack and glaze from heat, from light.
In a frieze of tangled motives and needs,
his heart grieves the divergences of soul and self
Sorrow's springs are the same—
loss, diminishment, isolation.
Yet inward love of the world's breath
sustains the penitent when truth is weighed
From his window, he sees the sunlight
begin its creation of the morning
as hills become the edges of infinity
against a kindled horizon
Where the sky and horizon touch,
his faith lies—the impermanent moment
and the infinite, becoming light and spirit,
as fledged wings carry time forward
                        *          *          *
He looks in the mirror-Christ and beholds genius
with uncustodial eyes enters the Christ mystery
the blight man was born for: an artist unconceded
inscape denied for all those star-bright years
Glory be to God for dappled things: to learn to bear
the ache, the suffering of beauty unheard, art unshared
parents absent from the ordination, the longing for an
audience: the instress, the agony of an Achilles heel.
                        *          *          *
A slow boat from Hopkins's mind departs for
the twentieth century.  Robert Bridges takes a
cabin, he walks on deck, feels the ocean
salt his lips in the wind, feels his voice
leave, and the way he knows this boat perhaps
is a vision.  History can have too many labelled
jam jars, and strawberry can be peach.  "Bring
me nectar," Ezra says, then he shakes it in
its alchemical tumbler as the slow boat sails
into exotic waters. We are closer to Hopkins's
world than some think, and Ezra knows,
when he puts sprung rhythm in
his magician's black and velvet top hat,
and macaws and toucans
alight for the sky, we are back to a Jesuit
contemplating a grail of sorts – a chalice o'erbrimming with
the potential of the unknown. Hopkins realised
poetry is a world within worlds within and outside worlds,
and the sacred unconscious Hopkins plumbed
is his blessing unfathomed by words.
[Authors′ Note:
This is a collaborative poem by one American and two Australian poets that explores Gerard Manley Hopkins's philosophical themes found both in his poetry and in the personal struggles of his inner life. Our appreciation for Hopkins's poetry and achievements led us to create, in our poem, a tapestry of ideas and images—as well as actual wordings (designated in Italics) from Hopkins's poems, sermons, and letters. Our hope was to provide insights into Hopkins as a man, a poet, and a Jesuit priest engaged with themes of the search for meaning in life, and thus to convey a sense of the complexity and dynamic beauty of Hopkins's work. – Christina Murphy, Martha Landman, and Michael Fitzgerald-Clarke. ]