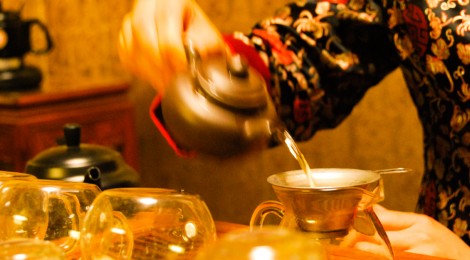 More Shores
(Thank you to Maxine Hong Kingston & Farewell My Concubine)
Is that Samisen, the swish of geisha?
Those strings, that fragrance…
A tattoo in silk's fluidity,
The clear mystery of sheer notes strummed
From tightly bound feet?
Lacking, did they lack—–
Madame M's circumstance,
Kindness, the strangeness of—–
Hands, juniper lush, green beyond the wintry,
The stark rickshaws rolling &
Rocking junks of Hong Kong?
Poverty, turbulence—–
Warrior women, dragon lads…
The wells for disgrace
Should pregnancy not be sanctioned,
The posts, the ropes for legs
In order to bend, elevate, be street
Spawn through the master's whacks
Of obedience, superstition,
The disciplining veils—–
Orphans for the concubine & perhaps
Stars, castrati, latter day, for the opera,
The circus…
Tea now.
Read these leaves,
This ching of the I,
The patterns, prophetic:
Tiles & gardens, palm fronds & jazz,
The immaculate smoke, the opiate arrangements,
The uniform & bicycle marches—–
Did you predict—
From the Good Earth to Tiananmen?
Image: Flickr, "Tea Ceremony" by username: 82Gab (82gab), under the Attribution-NoDerivs 2.0 Generic license.