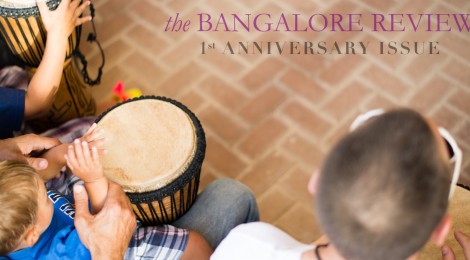 On the 8th of June, 2013, The Bangalore Review launched its first issue. Today, as we complete a year, we would like to thank our readers for the great support you have offered. Every month, with every issue we launch, we hear your response and that keeps us going. We also thank the large number of contributors who have shared their work with us from not just India, but from around the world. On last count, we have published the works of over a 100 writers in this one year.
Our vision continues to be our guiding force. We shall continue to promote criticism of literature and arts. We will always be a publishing platform for writers from different geographies and with varying levels of experience. Apart from poetry, fiction and critical essays, we also plan to feature works of art, short films, photographs, music, etc. We encourage our writers to send in essays of criticism on literature, arts (fine arts & performing arts) and architecture.
On the occasion of our anniversary, we have for you a larger edition than usual. In this issue, we begin by paying tribute to Maya Angelou, who died on May 28. In an interview, we also have featured the beloved bookseller of Bangalore, Mr. T. S. Shanbhag of the erstwhile Premier Book Shop. Taline Voskeritchian also writes for us, this month, about her experience of watching Michael Haneke's Academy Award winning movie, Amour. We also have Cheriyan Alexander writing about his experiences as a reader and later, as a book collector in Bangalore.
One last word. This magazine is made of not just the coming together of the three of us. Behind each edition, there are the efforts of a relentless team of editors, illustrators & photographers. We wish to acknowledge their support and tireless enthusiasm. We thank you all.
Arvind Radhakrishnan
Suhail Rasheed
Sudeep Reguna
June 8, 2014