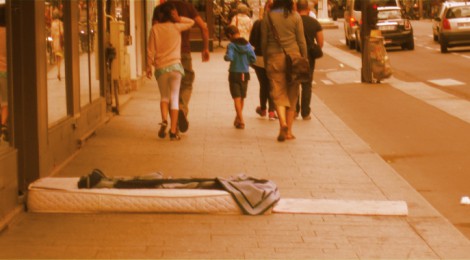 Not even flowery fields of begonia
Could clear the stench of ammonia,
That reeked in the streets of Paris.
Along pavements, chairs stared at the street,
At the sun, at the people, and at their feet.
The tramp laid his home before Lafayette:
A mattress, a welcome mat and a blanket.
Outside Gare du Nord:
Ganesh, Jasmine and Indian lore.
We dragged suitcases towards Phillippe de Girard.
And holy coconut shells over coal-black tar.
Bare-breasted nymphs with six arms or more:
A model, a pageant, a dancer and a whore,
Paraded before a kipa, a hijaab and a turban;
Smiled and winked, and did the forbidden.
In the precincts of Lido, this was the cabaret
As we savoured Cristal and a slice of comté.
In the Louvre, the sepulchers were revered;
The Mona Lisa was adored, the Gikuyu ignored.
And in the solemnity of Petit Palais,
Stood a lone painting by Claude Monet.
– Paris, 3rd September 2014
***
Image: Sabah Carrim © All Rights Reserved