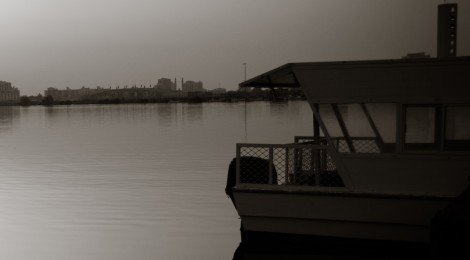 Silent Night, Holy Night
"If you are afraid of loneliness, do not marry." – Anton Chekhov
Once, I was the artist in our marriage,
now my unfinished masterpiece.
You sharpen scalpels, I craft my nightmares.
I walk down never-ending stairs.

Silent night, holy night,
All is calm, all is bright

Every night now, we pretend to forget –
the season of miscarriages, the awkwardness
of over-familiarity, the smell of socks
hardening into leftovers.
We fold mistakes like clothes,
keeping them alive for another day.
Errors turn into kettle-fossils.

Sleep in heavenly peace,
Sleep in heavenly peace

"Not today …"

Your sleep is our marriage's dowry.
Watching you sleep, I feel like a car
being overtaken by another.
Only there's no speed –
your breath paces slower than mine.
I watch this ticketless travel carry you away.
I worry about the long queue that makes me
wait to get into your dreams.

Silent night, holy night

Half-asleep, the ancient tremulousness
of hunting sticking to eyelids,
we scratch with words, blunt weapons.
We win sigh-battles.
God is a pillow we fight with.
Role-playing master, he becomes arbiter.

Silent night, holy night,
Shepherds quake at the sight

A wife is never porn, I say.
Is it the same for dreams? I ask.
Your sleep's tarmac keeps me away.

But it wasn't always like this.
I wish we were old. Or older.
Young  jasmine bulbs have no fragrance.
Youth must have had its uses –

Glories stream from heaven afar,
Heavenly hosts sing Alleluia!

Our marriage was young once.
We slept better, we forgave more,
we excreted more rheum.
Problems were a frame
that gave our lives structure,
like a wallet does to currency notes.
Middle-age is the season of plenty:
more food in the trash than in stomachs,
clothes for six lifetimes, the seventh ajar.

Radiant beams from Thy holy face
With the dawn of redeeming grace
Now I sit with the cherry seed in my mouth,
caught between swallowing and spitting,
trapped in the cubicle between abundance
and being abandoned.
Silent night, holy night