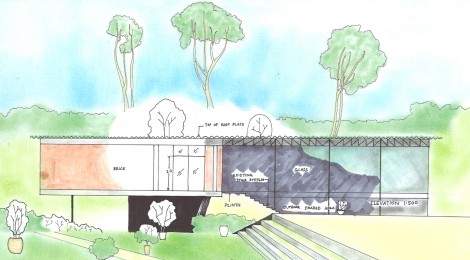 THE HOUSE THAT LOTA DE MACEDO SOARES BUILT IN SAMAMBAIA
A half-mile beyond where the bus
stopped struggling against
the slope of the mountain,
and past a hushed hamlet with one chatty café,
an unseen waterfall became the soundtrack
to the 3-D movie I confused with substance.
When the cascade was revealed
its babble was replaced by
the allegations of cotinga birds
and the pleas of tamarin monkeys.
Or so I imagine—
the source of these speech acts was hidden from view.
Blue morpho butterflies with wings as large as bandanas
swarmed like I was a rotting mango
as the mist shushed the fauna.
A few features of the morning dominate my memory
and I overlook crucial details.
Even if this is the nature of remembrance
I apologize to the shapes
and colors and sounds and smells I omit.
At a bend of the road
across the ravine–
I recognized the tableau vivant
from photographs and descriptions.
But the monologue of the bigwig at the café–
like a voice-over in a film noir—
returned to me.
I translate:
"Do not walk onto the property—
the owner will have you arrested…or worse…
she'll shoot you."
At least I imagine
this was his warning as he spoke so fast…
Admittedly I do have the gene for hyperbole.
I walked to the gate and hugged the soggy view:
My camera reproduced
only a faint outline
of the mid-century assemblage
so memory alone stores the perspective.
My dizziness subsided
as I realized what was in front of me:
the house Lota de Macedo Soares built in Samambaia.
***
Illustration: Vishnu Prasad