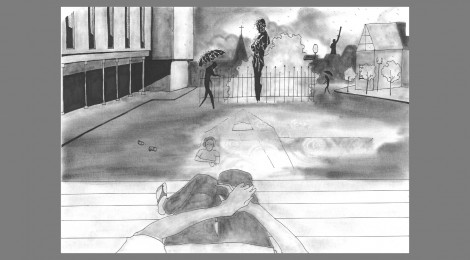 OREGON COAST: THE SEARCH FOR ORDER IN SEPARATE THINGS
Back in Baltimore, a city of God
and stone men on stone horses,
I wept in the rain
on the steps of the halfway house.
Umbrellas and pity passed me by
as water from heaven
fell onto pop cans and whiskey bottles
thrown on the grass and sidewalk.
Stone arms folded on his chest.
Wet light
on the gray face of Robert E. Lee.
Now at the ocean, the sun spreads white
behind a scrim of clouds
and it drizzles from time to time.
It should be enough to only walk
and feel on my hair and the back of my neck
rain that falls blinking
into this hour.
Sooner or later I will learn to be silent
Sheeted sunlight on black rock cliffs.
The gleam of newly wet sand.
***
Illustration: Vishnu Prasad