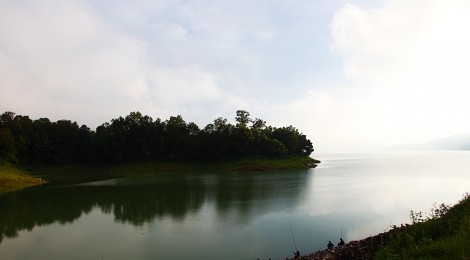 It was a late September evening when the sun came out after a 2 hour long shower. Cold water running through the streets drench my jeans, as I walk down hill. Wet pebbles hurt my toes. I walk by the Umshing-Mawkynroh village, admiring the white wooden fences that reminds me of European movies. Washed clothes of all colours hang by a rope like a convex rainbow, swaying to the pine winds. Like every other day, I walk towards Mawlai point, where autos without windows, covered in black leather, are waiting to leave for Barabazar.
I was almost there, when I took a wrong turn and lost my way. The serene landscape of Umshing changed suddenly to a morbid dead locality. I was in Mawlai, where they say, Bengalis were beheaded like goats during riots. I was in Mawlai, where many years ago, HNLC had dug its den. Mawlai, where two of my closest friends lived, friends I ate and slept with… but that did not cross my mind, that moment.
For I was afraid.
More so, with the thousands of shivering stories that were told to me when I was in Silchar. Inside the cold was getting worse. Outside it was getting dark.
Just when I saw the edge of the main road, where autos were lined up, I heard :
'Hoi !
where you go?
Stutlia!
– Paisa de !
I turned to find three young Khasi boys. Sniffing dendrite. I knew I had to run.
I ran out of the lane onto the main street only to meet an elderly looking Bah who saw what had happened. The kids ran away when he shouted back at them. He waited with me till the auto came and we shared a smile as the auto left.
That evening, I left Mawlai with many unanswered questions.